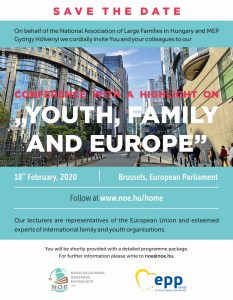 On behalf of the National Association of Large Families in Hungary and MEP György Hölvényi we cordially invite You and your colleagues to our
CONFERENCE WITH A HIGHLIGHT
ON "YOUTH, FAMILY AND EUROPE"
18th February, 2020
Brussels, European Parliament
Follow at www.noe.hu/home
The audience mainly consists of young people from all over the world, while our lecturers are representatives of the European Union and esteemed young experts of international family and youth organisations.
You will be shortly provided with application requirements and the deadline for application.
For further information please write to noe@noe.hu.